Our Rustic Little Outfit Offers Something for Everyone
Horseback Riding and Goat Activities with Vail Stables
Our gentle horses, friendly, experienced guides, and awe-inspiring trails await your arrival.
Try Goat Yoga or Goats & Wine!
We have the Happiest Hour in Town when the goats mingle with our bar patrons.
Located one easy mile (don't walk!) NE of Vail Village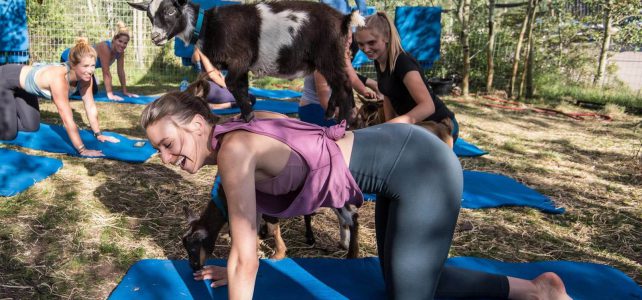 Goat yoga is an amazing experience for those who want to unwind, laugh, and relax while attempting to do the downward dog with a young goat or several winding around and between your limbs.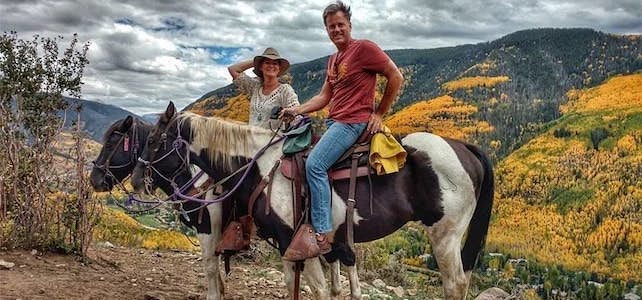 Enjoy a scenic ride on mountainous terrain, through a leafy-green Aspen forest with wide open viewpoints of the Gore Range, Vail's ski slopes on down to Beaver Creek. Join us on a ride, and get in touch with nature!

Contact Us or Book Direct Online to Make a Reservation
Vail Stables is uncompromisingly Colorado, specializing in beautiful mountain horseback rides near the town of Vail.
We have been the leading provider of tours on horseback for over 17 years and offer adventurers an all-access pass into the backcountry of the White River National Forest.
The spirit of the Old West rides on the breezes flowing through the quaking Aspens and echoes in the squeaking leather saddles. Our passion is to create transformational experiences through horseback riding.
Our friendly, experienced guides, gentle horses, and awe-inspiring trails await your arrival.
Note: The information on this website supersedes any other information found on printed materials or other websites.
Relax in our hammocks with a stunning view of the slopes. We have cold beer and wine for the adults and soda available for the kids. Play a game of cornhole, washers, or cards. The goats come out to mingle too!
The beer garden at the Crooked Cow Saloon is open Monday and Wednesday 12-3 , Friday and Saturday from noon until 4:00, 5:00, 6, or 7 p.m. if the crowd keeps it going. If no-one shows by 4pm, we are outta there!
The goats come out to mingle between 3:30 and 5:30 p.m. Friday and Saturday.
Treat Yourself to the Ultimate Adventure
Visited twice in 3 days- so much fun!
"We booked a family trail ride our first day of vacation in Vail- it was so great- horses were very sweet and gentle, scenery was gorgeous, ride was very relaxing. Then we found out they have Goga (Goat yoga), and the girls HAD to come back for that, so day 3 of our trip we were back at Vail Stables for a really fun session of goat yoga with the sweetest goats and great yogi leading the session. Highly recommend both experiences!!"
Goat Yoga so much fun!
"My daughter convinced me to sign her up for goat yoga. We got there and all decided to join her as a family. It was so much fun. Amy was the instructor and was awesome. She gave us a nice workout and gave us plenty of time to interact with the goats. The goats were sweet and fun. Highly recommend. We may try to do it again before our vacation ends."
Excellent Beginner Ride
"Having almost no horseback riding experience, 2 hour Vail Stables tour was perfect for our family with 2 tweens/teens. Climb into forest was manageable, not scary at all, and views were amazing. Horses in beautiful condition and very well trained. On our ride we hardly did any directing, in fact, we could have actually handled going faster."
Best ride we've been on. Great route and overall great experience.
"Great experience from the minute we checked in. Our guide was Ellen and she was terrific. Got us ready and off we went on a fantastic 2-hour ride. Great pics along the way. Never considered about the horses or trails and we got up and down the mountain with incredible views and great memories. Highly recommended! Do the 2-hr ride. well worth it!"
Loved it!
"We decided to go for a horseback riding after my kids (10 and 12 years old) insisted… my husband didn't want to come but somehow we convinced him. We all loved it!!! The horses are so perfectly train that you literally don't need to do anything… it was a great experience and a great way to see Vail from a new perspective! Will definitely be back."
Looking for the kids program?
After a wonderful 16-year run, we have decided to discontinue our kids programs, including Horse Camp, Pony Camp and Nature Camp.
Pony Time for Lil' Buckaroos
We have mini horses wearing mini saddles for mini humans. That would like to enjoy time with a pony. Groom, lead and/or ride. Parents lead the pony, carrying the children, up the path surrounded by beautiful scenery. It's the perfect photo opportunity with your Li'l Buckaroos. Bring the whole gang to enjoy the experience.