Just the FAQ's M'am
No question is stupid or ridiculous, but some of the answers are.
Most common phone question… "I'm looking at your website and it says the minimum age for trail rides is 5, does that mean my 6 yr old will be allowed to ride?" Here is a ridiculous answer. No, we are skipping 6 year olds and only accepting 5 and 7-90+ year olds.
We have various beverages available for sale at the bar. After the ride, you can belly up to the bar at the Crooked Cow Saloon for an adult beverage and snacks. For the kids we have Capri Sun, juice, soda or seltzer.
We also have T-shirts in various styles and all sizes, and old tack used by the horses at Vail Stables over the last 30 years too. Pick anything off of the wall with a price tag, and it can be yours!
We do sell frosty, cold bottled water and have a large supply of sunscreen on hand. It is recommended you apply it 30 minutes prior to ride time.
We also have that germ-killing gel that helps you combat germs to make you healthier (cough — or sick, more often). According to Aunt Pat, you have to eat a bushel of dirt a year to be healthy.
Book: Eat Dirt!
Start singing.
We have Frog Togs and yellow slickers, Colorado style. Yes, we do ride in the rain! Many guests have returned from a ride beaming with satisfaction, claiming the ride was the best of their life. The forest sparkles and sings in the rain
Your ride may be delayed as long as 60 minutes to allow major storms to pass. Thunder and lightning, very, very frightening me, (Galilelo)… It passes by quickly.
Rides in progress may be cut short due to major lightning and will not be refunded nor issued rain checks. No exceptions.
We sit in the banana belt of Vail and normally do not have any problems with the weather.
The summer 2015, 2016, 2017, and 2018 weather forecast was wrong EVERY DAY!!!
The forecast has ruined many more vacations than the actual weather.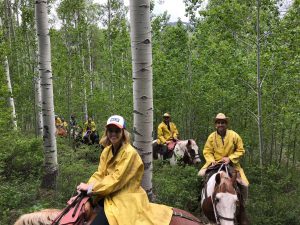 Do you have any specials or discounts?
No coupons in any of the guide books, nor specials.
(Unless you call direct, bring cookies, and pay cash in US paper currency upon arrival, then you can receive a $10 discount per person off the GRAND TOTAL and a $5 discount per person off the Grand Total for Goat Yoga or Goats & Wine.)
We have yet to see any cookies, but we've had people argue about how to apply the discount once they check in. In those rare instances, all discussions shall cease, said discount will be revoked, and the card on file will be charged.
Bad, bad apples!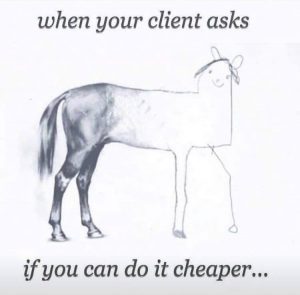 Have the parents sign the waiver, and you can deliver it when you visit. Review the waiver here.
Complaints happen. We know. But if you have a serious complaint, please submit in the following format:
These are actual complaints received by Thomas Cook Vacations from dissatisfied customers:
1. "They should not allow topless sunbathing on the beach. It was very distracting for my husband who just wanted to relax."
2. "On my holiday to Goa in India, I was disgusted to find that almost every restaurant served curry. I don't like spicy food."
3. "We went on holiday to Spain and had a problem with the taxi drivers as they were all Spanish."
4. "We booked an excursion to a water park but no-one told us we had to bring our own swimsuits and towels. We assumed it would be included in the price."
5. "The beach was too sandy. We had to clean everything when we returned to our room."
6. "We found the sand was not like the sand in the brochure. Your brochure shows the sand as white but it was more yellow."
7. "It's lazy of the local shopkeepers in Puerto Vallarta to close in the afternoons. I often needed to buy things during 'siesta' time — this should be banned."
8. "No-one told us there would be fish in the water. The children were scared."
9. "Although the brochure said that there was a fully equipped kitchen, there was no egg-slicer in the drawers."
10. "I think it should be explained in the brochure that the local convenience store does not sell proper biscuits like custard creams or ginger nuts."
11. "The roads were uneven and bumpy, so we could not read the local guide book during the bus ride to the resort. Because of this, we were unaware of many things that would have made our holiday more fun."
12. "It took us nine hours to fly home from Jamaica to England. It took the Americans only three hours to get home. This seems unfair."
13. "I compared the size of our one-bedroom suite to our friends' three-bedroom and ours was significantly smaller."
14. "The brochure stated: 'No hairdressers at the resort.' We're trainee hairdressers and we think they knew and made us wait longer for service."
15. "When we were in Spain, there were too many Spanish people there. The receptionist spoke Spanish, the food was Spanish. No one told us that there would be so many foreigners."
16. "We had to line up outside to catch the boat and there was no air-conditioning."
17. "It is your duty as a tour operator to advise us of noisy or unruly guests before we travel."
18. "I was bitten by a mosquito. The brochure did not mention mosquitoes."
19. "My fiancée and I requested twin-beds when we booked, but instead we were placed in a room with a king bed. We now hold you responsible and want to be re-reimbursed for the fact that I became pregnant. This would not have happened if you had put us in the room that we booked."
Here's one we received recently.
"We booked a one hour and were offered the opportunity to upgrade to a two hour so that we wouldn't ride with noisy children. Then we were charged for the upgrade and we don't appreciate that."